Dr DV, Dushyant Viswanathan
MD, ABIM, ABOIM, 
AACE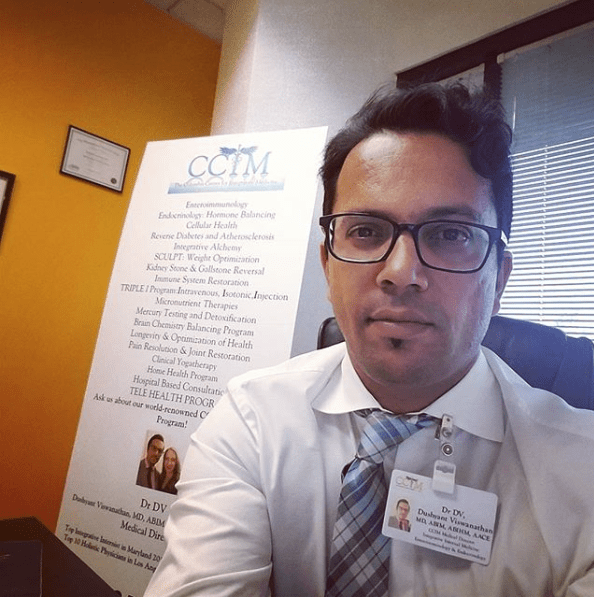 Statement of Intent:
It is with utmost humility that I accept the privilege to be of service, providing medical care for you. My work and intent is to provide sustainable, lasting solutions leading to true healing, by addressing and resolving the underlying causes of illness; once this is achieved, coherent strategies aimed at longevity and optimization of health are implemented. I am grateful to CCIM for providing me a platform by which my protocols can be of service, and I am grateful to you to be given an opportunity to be of service. CCIM makes use of a wide range of tools (pharmaceutical, compounded, naturopathic, lifestyle, nutritional, mind-body) in the creation of customized treatment programs after exhaustive diagnostic testing. The cardinal rule firstly is to do no harm, and secondly is to be effective.
Active Medical Directorships:
• Chief of Dept of Internal Medicine, Lompoc Valley Medical Center, Lompoc, CA
• Chief Medical Officer of CCIM, which was established in 2012
• Director of Hospitalist Medicine Service at Lompoc Valley Medical Center in Lompoc, CA
Active Board Certification:
American Board of Internal Medicin

e, diplomat
American Board of Integrative Medicine, diplomat
American Board of Integrative Holistic Medicine, diplomat
Active Medical Licensure: California #A128469 & Maryland #D71586
Member, American Assoc. of Clinical Endocrinologists
Awards:
2013 "Top Integrative Internal Medicine Physician in Maryland" by Int'l Assoc of Internists
2015 among "Los Angeles' Top 10 Integrative/Holistic Doctors" The Caster News Vol 15, Iss 2
Active Hospital Affiliations:
Director of Hospitalist Service at Lompoc Valley Medical Center, Lompoc, CA
Past work at dozens of hospitals in the USA
Education:
Internal Medicine Residency graduate of the University of Maryland Med System (2011)
Internal Medicine internship at San Joaquin General Hospital (2008)
St. George's University School of Medicine graduate (2006)
University of California, Irvine graduate with Bachelors of Science degree in Biology (2000)
Miscellaneous:
CCIM offers specialized proprietary diagnostic and treatment programs for conditions in the scope of internal medicine
Serves on medical advisory committees for multiple private organizations in the USA & Switzerland
Serves patients in the USA and Europe
Serves patients in inpatient, outpatient, home based, and tele-health settings
Medicare & Medicaid provider
Non-medical qualifications include professional quality music therapist, Yogatherapist, physical trainer, published writer, nutritionist
Active certifications with Nutrametrix Educational Institute as a healthcare provider
Labrix Certified Hormone Balancing Practitioner
In-Office or home-based Medical Procedures offered by CCIM include:
Integrative Alchemy treatment
Corticosteroid injection treatment
Micronutrient injection treatment
Keloid shrinking injection treatment
Elaina Heather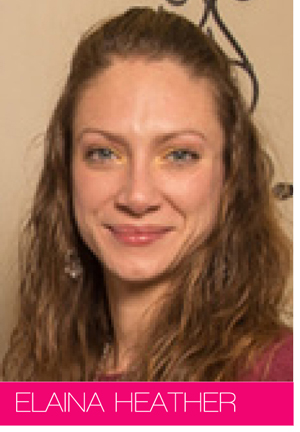 Elaina Heather is CCIM Wellness Coordinator who offers the following state-of-the art therapies in service of her patients:
• Meal Planning using Food as Healing Energy
• Customized yogatherapy protocols
• Herbal formulations
• Integrative Alchemy with Perception Reframing
• Meditation classes
• Reiki, both therapeutic and teaching
• Multiple mindfulness practices
Elaina trained with Thelma Gress (certified nurse practitioner, teacher of kundalini yoga, and student of Yogi Bhajan) from 2005-2009, Dr Jaya Satish, specialist in mudra meditation, and Jannon Baer (specialist in mudra yoga, meditation, and student of Thich Nhat Hanh) to gain specialized knowledge and skill in the theory, practice, and pedagogical aspects of meditation. She also studied with Kate Miller and Moses Brown, both of whom are certified teachers of anusara yoga. Elaina furthered her training with Rod Stryker who is a specialist in pranayama and meditation.
Elaina has experienced the benefits of transformation and meditation in her personal journey of healing, including having completely cured endometriosis and pain related to scoliosis. Her personal experience of dealing with these issues informs her with empathy to connect with her clients and patients.
At CCIM Elaina is creating opportunities for others to join her in celebrating life and to finally recognize that their fullest potential is infinite. She says, "When we realize that our light burns to the fullest infinite possibility is when we begin to expand and heal from the inside out. This is what the world needs to heal; it starts within the self, in which each person recognizes goodness and kindness radiating from his/her own heart. Self-Love creates a spillover effect, and as a consequence, the world benefits. When we smile from our authentic hearts, we heal together as a group."
Jamiel S. Hafiz
PA-C, LAc works prominently as a naturopath, drawing together classical and modern medicine traditions. He began in 1994 practicing Neuromuscular therapy and shiatsu and then apprenticed with Trigger Point and Feldenkrais therapists. At the University of New Mexico School of Medicine, he gained proficiency in a broad range of manual and movement-based treatment techniques, including spinal manipulation, while training alongside Osteopathic physicians.
Recognizing some very useful therapeutic traditions were missing from modern medicine, Jamiel found a sophisticated medical system in Ayurveda, classical East Indian medicine, which has significant underpinnings found in modern medicine and surgery. A graduate of the Ayurvedic Institute under Dr Vasant Lad, Jamiel also learned to utilize a wider variety of naturopathic treatments, for a wider variety of conditions, as a Ayurvedic Panchakarma Technician while at Maharishi International University. Jamiel also had the honor of apprecticing in Ayurvedic Naturopathy with Vaidya Agam Baghel, and in 2001 Jamiel qualified in the first class of Registered Yoga Teachers in the U.S. He also holds a Master's Degree in a more constitutional approach to acupuncture from TAI(now Maryland University of Integrative Health), and he served on the Honor Council during his PA medical education at Towson University.
Jamiel has practiced and directed the clinical staff at a number of integrative musculoskeletal clinic settings as well, working alongside orthopedists, physiatrists, advanced chiropractors, physical and occupational therapists. Working and training with numerous Integrative Medicine doctors in the Baltimore-Washington area, he brings experience and knowledge to help people with a broad range of small and large health problems using natural methods. Always attentive to how the mind, emotions, and life situations play in, Jamiel holds great compassion and also demands committed personal effort to re-establish proper bodily function and happy, purposeful living
Compounding Pharmacies who work with Dr DV and CCIM:
Hunt Valley Pharmacy (MARYLAND)
410-667-6246
hvpcc.com
Central Pharmacy (CALIFORNIA)
(310) 395-3294
mycentralpharmacy.com
Lawrence Sacchetti, RN
CCIM IV infusion nurse
Christy Thorndill, RYT
CCIM Yogatherapist